MORNING
06:30 hours Pick up from your hotel at Delhi and Leave for Agra by air-conditioned car  on private transfer basis 

Delhi-Agra distance by road surface is 200 kilometers; 4 hours drive 



10:30 hours Visit SIKANDRA (just 12 kilometers before Agra)
SIKANDRA- The tomb of Akbar, begun by the Emperor himself later it was completed by his son, Jehangir. The emperor began to build his own garden mausoleum during his lifetime, a red sandstone monument in a chahar-bagh or 4 square-formal gardens. A magnificent marble-inlaid gateway leads up to the open, airy, four-tiered structure, which is topped by a white marble cenotaph and screen on the fifth-floor.





AFTERNOON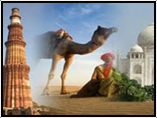 13:00 hours Lunch at a restaurant in Agra 

14:30 hours Visit TAJ MAHAL- the monument depicting the finest expression of love of an emperor for his queen

TAJ MAHAL- Described as the most extravagant monument ever built for love, it was constructed by Mughal emperor Shah Jahan as a memorial to his queen Mumtaz Mahal and was made out of white marble took 22 years to complete (1630-1652 AD). On full moon nights, the glory of the Taj is at its best to witness. Over the centuries, the Taj has attracted more visitors than perhaps any other Monuments in the country, and it is all too easy resort to conventional superlatives when describing it. What makes the Taj unique is its perfect proportions, distinct femininity, medium of construction and ornamentation. Its marble exterior reflects rose and golden tints at sunrise and sunset, while it is dazzling white during the day and glows like a pearl in the moonlight and during the monsoon. 


16:30 hours Departure to Delhi 
17:00 hours Time for tea; you can stop at Country Inn, Kosi en route